The 2021 Subaru Love Promise Customer and Community Commitment Award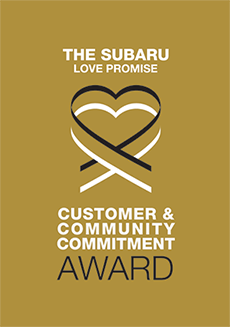 We've been nationally recognized for our dedication to our customers, our community, and the Subaru Love Promise.
We're honored to receive the 2021 Subaru Love Promise Customer and Community Commitment Award. This award nationally recognizes elite Subaru retailers who provide an exceptional customer experience at every interaction with Subaru. These retailers have also demonstrated an outstanding commitment to supporting passions and causes in their local communities in important areas such as the environment, community, health, education, and pets.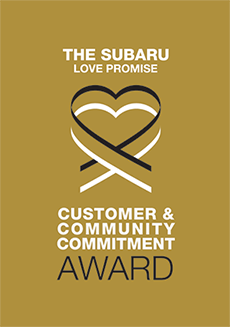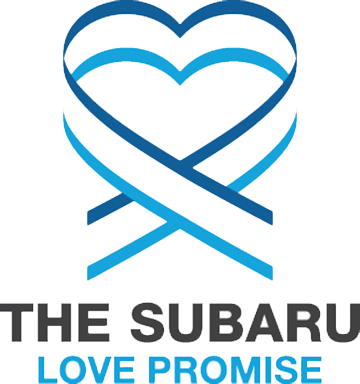 What is the Subaru Love Promise?
Subaru and our retailers believe in making the world a better place and the Subaru Love Promise is our vision of respecting all people. This is our commitment to show love and respect to our customers and to work to make a positive impact in the world.
How is Greeley Subaru dedicated locally to the Love Promise?
Our Love Promise can be seen in various partnerships with local charities and non-profits. We're grateful for the opportunity, not only to be a part of our community, but to serve it as well.
Weld County Humane Society
Monfort Elementary, Success Foundation
Jr. League, United Way, Boulder Ridge, Greeley Transitional House, Habitat for Humanity
Love Promise Stories from Greeley Subaru
Subaru and Greeley Subaru believe in making a positive impact on the communities in which we live and work. We uphold that belief through our Love Promise Community Commitment. Every month, we select inspiring stories from customers and partners from around our area who strive to support our collective commitment and feature them here
Greeley-Weld Habitat for Humanity Share the Love - Kristina R
We at Greeley-Weld Habitat for Humanity are extremely thankful to have local companies like Greeley Subaru who tangibly care for these marginalized families in their own backyard and aim to make a difference in the communities they work in. Thanks to our partnership through the Share the Love Event campaign and our generous local community, Greeley Subaru raised $19,325 to help build more homes for deserving families! Back in November 2020, Greeley Subaru chose Greeley-Weld Habitat for Humanity as their nonprofit partner for the Subaru of America, Inc. Share the Love campaign! For every Subaru sold, Greeley Subaru donated $250 to help local families in Weld County achieve their dream of affordable homeownership. One of the families helped through the Share the Love Campaign was Zafu Gebrehiwot, and her five daughters, who traveled from Eritrea, Africa to the United States after six years in an Ethiopian refugee camp. For families like Zafu's, partnerships like these are what help Habitat families build towards a better future. Zafu wants a home for her children where they will be comfortable and have ample space to study and store their soccer gear. Working hard throughout the COVID-19 pandemic as an essential worker at the local meat packing plant Zafu shows just how much her home means to her and her family. Nothing will stop her from moving towards her goal of affordable homeownership. Having managed to stay together and strong as a family through much adversity– there can be no doubt that the Gebrehiwot Family is ready to accept the challenges and blessings that homeownership brings. To go from living in a refugee camp for six years to building her family's forever home, Zafu is grateful to all the partners, volunteers and community members who have helped and supported her along the way. Without the dedication of community partners like Greeley Subaru, Zafu's dream of affordable homeownership, would not have been possible. "I'm excited to have a place we will be able to call home. After moving from one house to another we will finally have a place that is forever ours." Monaliza Gebrehiwot, Zafu's daughter. The staff at Greeley Subaru are not only giving back to their community but are investing into the futures of those in need, who now more than ever, like Zafu and her family, need a safe place to shelter, raise their families and thrive into their future. "We are deeply grateful for community partners like Greeley Subaru, and its generous owner, Warren Yoder. Their investment in our mission to end poverty housing in Weld County is why we can serve a greater number of families than ever before in our 33-year history." Cheri Witt-Brown, Executive Director, Greeley-Weld Habitat for Humanity "It's just part of our core values, being a cornerstone in the community and giving back," said Greeley Subaru owner Warren Yoder. "To me, it's almost like our duty. That's kind of our philosophy."
---
Subaru Loves Pets Event @ the HSWC - Sarah W
On October 10th and 11th, Greeley Subaru partnered with the Humane Society of Weld County to bring the community the "Subaru Loves Pets" event. This year, "underdogs" and "undercats" were featured and pets that are typically considered more difficult to adopt touted sponsored adoption fees. Due to COVID-19, the event was hosted at the shelter, and was a huge success for 29 of our animals. Thank you, thank you to Greeley Subaru for making this experience possible for these animals, and for your support of community pets and the Humane Society of Weld County!
---
Trunk or Treat - Staci M
Thank you to Greeley Subaru for making our Monfort Elementary Students Halloween trunk-or-treat the best one yet!! You guys are amazing, and it just gets better year after year. We could not do the trunk-or-treat without you!!! This is one of the students favorite times of year!
---
Greeley Subaru supports local foster families. - Ryan G
Greeley Subaru was proud to be a sponsor of the Foster Source #FollowtheFlock Flamingo Fundraiser in September 2020. Every day twelve children enter Colorado's child welfare system. Imagine parenting a child placed in your care from a traumatic background during a pandemic. This is why Foster Source offers services to soften the foster care experience. Foster Source is a non-profit that serves 1,000+ Colorado foster families in 'normal' times. Due to COVID-19 – the need for their services has doubled. In fact, recent feedback showed that the services Foster Source provides prevented foster parents from disrupting placements of children in their care during the pandemic. Now more than ever, Foster Source needs to make sure foster families have the resources to help kids in care heal and break the cycle of foster care. To continue supporting children entering care in Colorado, Foster Source held a #FollowtheFlock Flamingo Fundraiser that kicked off September 1, 2020. This fundraiser replaced their annual fall fundraising event so they could continue to uplift Colorado foster families. The fundraiser touched the hearts of some of our local community as well. "We have just been flocked by Foster Source! This is one of the coolest things ever! Of course all donations help and we (Bernadette & I) would love to raise as much as we can, while also helping raise awareness for the support Foster Source provides to foster families," Chaz Tedesco, Commissioner, Adams County Government said. Foster Source's Executive Director, Renee Bernhard was grateful for the innovative way this fundraiser brought not only visibility to the needs of foster parents and children, but also raised money for those in need. "Not only have individuals stepped up to want to support the fundraiser, but we have received support from local businesses and organizations as well." To learn more about how to contribute to Foster Source, visit their website fostersource.org/flock.
---
Teacher Appreciation - Staci M
Thank you to our business partner Greeley Subaru for, once again, being so generous and kind and donating meals to our teachers for our parent teacher conferences. Greeley Subaru has always been so thoughtful in helping out our teachers, but this year was even more thoughtful as we were unable to have our food donated at the school as they have done for several years now. With the new Covid guidelines, we are unable to have food delivered to the building so Subaru gave us gift cards so that the teachers were still able to go get some food for the long nights that we have to work on the days of parent teacher conferences. It means so much to our Monfort staff that Greeley Subaru goes above and beyond to support the students, staff and families of Monfort Elementary School.
---
Great neighbors! - Sueann S
Subaru of Greeley sponsored a coffee break, from Aunt Helen's Coffee shop, for our residents and staff. This was a great start for celebrating Assisted Living Week. Dave and staff thank you for all you do for our community and for supporting our local businesses!
---
Cycles for Seniors - Sueann S
The Bridge Assisted Living hosted a socially distance mobile parade for residents of The Bridge and LifeCare Center. The seniors loved the liveliness of the partakers. The smiles on the resident's faces as well as the tears in their eyes summed up how important they felt with the waves and generosity of time from the parade participants. Dave Sloan, rode a Subaru bicycle, and his staff represented with multiple cars and brought a great deal of enthusiasm and entries to the parade, with waves and horn-honking the enjoyment was outstanding. Dave thank you for making a difference to our residents and to the staff at The Bridge Assisted Living. Your community partnership is very appreciated.
---
Trunk or Treat - Staci M
Greeley Subaru partnered with Monfort Elementary School again for the 4th year of our Trunk or Treat, they went above and beyond what we could ever have asked for. Our almost 500 students had a great time going through the line and getting all the goodies Subaru donated, we truly appreciate what Greeley Subaru does for our students and our staff here at Monfort Elementary, they are amazing!
---
Book Donation - Jason M
Greeley Subaru has generously donated engaging books to Platte Valley Elementary School. On October 30th, representatives from teh company came to the school with multiple boxes of science themed books. As they brought them into the school library, students could not hide their excitement. We greatly appreciate the generosity of this wonderful business and I know they will continue ot have positive impacts throughout the region.
---
60+ Ride and Ride & Revel! Love Greeley Subaru! - Janet B
Greeley Subaru was a huge sponsor and supporter of the third annual Ride & Revel!, a road and gravel cycling event on July 20th, 2019. The event raised over $36,000 for 60+ Ride, a local nonprofit which offers Weld County's Older Adults transportation so that they can maintain their health while living independently. This was the third annual Ride & Revel! and the second year Greeley Subaru has been with us, and we are so grateful! Not only are they a sponsor, but they also generously provided marketing, volunteers, three aid stations to keep cyclists hydrated and nourished along the road routes, and 15 vehicles which allowed us to support cyclists on five road and gravel routes! We can't say enough about the difference Greeley Subaru's sponsorship and support made to Ride & Revel!'s success. AND they are always a pleasure to work with! With Greeley Subaru's help we provided a fun day for 247 cyclists from six states, and it would have been tough to put on such a great event without all that Greeley Subaru did! Thank you, Greeley Subaru!!!
---
LLS and Subaru Love to Care - Julie J
LLS and Greeley Subaru delivered blankets to patients at UC Health Northern Colorado. The staff members were so appreciative of LLS and Greeley Subaru being there. The head nurse also raved about LLS and shared how appreciative she is of the educational resources LLS offers her patients and their families. The patients were excited to have these blankets since the hospital's exam rooms and infusion center can get a little chilly! The staff at UC Health Northern feel so empowered by this partnership and love that they are able to help LLS provide even more support to patients and families. A big thanks to Greeley Subaru for their partnership!
---
Subaru Loves to Care - Blankets - Julie J
This is the 4th year Greeley Subaru has participated in the Subaru Loves to Care/LLS partnership and every year the North Colorado Medical Center staff meets in a large group in the lobby to accept the blankets. These blankets provide much needed hope and warmth to the patients in Greeley, CO. Thank you to Greeley Subaru for providing this wonderful gift to patients and their families!
---
Pet Adoption Day - Adrienne D
On Saturday, November 17th, Greeley Subaru partnered with the Humane Society of Weld County to bring Greeley residents, prospective pet owners, and dealership customers "Pet Adoption Day." This event is a huge success each time, but due to winter weather road conditions, only four dogs were able to be adopted to their fur-ever homes on this day. Each dog that was adopted went home with a Subaru New Pet Parent care kit, waved adoption fees, and a loving family! Our staff, customers, and volunteers loved being able to spend time with the dogs for the day and snuggle & love them. A good time was had by all, and even though the weather hindered the greatness of this event, it was heartwarming to watch those four dogs each walk out of our dealership doors with excited new owners and know they would be better off.
---
Trunk-or-Treat - Adrienne D
Greeley Subaru has partnered with local elementary school, Monfort Elementary, to provide their students with a safe trick-or-treating experience for three years now. In attendance were 13 Subarus from our dealership, about 8 employees who volunteered, and 500 children of all grade levels.
---
Greeley Kennel Club & Subaru - Adrienne D
During late August, Greeley Subaru helped the Greeley Kennel Club hold their All-Breed Show. Greeley Subaru was a major sponsor for this and helped with setup & tear down and had a model of the Ascent there for spectators to view. We loved being a part of this event, petting competitors, meeting dog owners, and as always, supporting the northern Colorado community.
---
Ride & Revel Bike Ride - Adrienne D
Ride and Revel is an annual bike ride in Weld County to support the efforts of Senior Resource Services. Tour the vistas of Weld County with the Rocky Mountains and follow that up with local craft brew from local brewers.This fundraiser supports the efforts of providing transportation for seniors in Weld County. The 60+ Ride is the latest effort to offer free transportation to seniors that need it! Greeley Subaru provides aid during the race by setting up and manning service stations, providing vehicles, and setting up and tearing down of the event itself.
---
60 Ideas in 60 Minutes - Adrienne D
The 60 in 60 event is a breakfast that allows listeners to take away 60 key ideas from 6 speakers throughout their community. Greeley Suabru has sponsored these events in the past, and they are always a fun time. Each of the speakers chosen is from a different background, and brings a diverse set of "ideas" to each talk. Our staff loves being able to attend this event as well. On this particular 60 in 60, I feel the biggest takeaway was to slow down and enjoy more of the little things. Greeley Subaru loved being a part of another 60 in 60 in the Greeley community.
---
Greeley Subaru's sponsorship of Ride4Success - Ryan G
Greeley Subaru was proud to be a major sponsor the Ride4Success bike ride in downtown Greeley that was put on by the Success Foundation. The Success Foundation serves Greeley-Evans schools and this 5th annual bike ride was a fundraiser to support the school-aged kids in our community. The event featured a 10-mile "family ride" along with 25, 50 and 62-mile options for the more serious cyclists. Greeley Subaru had a booth at the start/finish line handing out sunscreen and lip balm for attendees along with great Subaru prizes and they also sponsored and manned two "Success Stations" to provide aid to cyclist along their route with water, Gatorade, fruit, and energy bars. Greeley Subaru looks forward to sponsoring the ride again next year to once again support the Success Foundation!
---
GREELEY SUBARU TECH RECEIVES SCHOLARSHIP - Ryan G
Mike Meduna, who works as a technician at Greeley Subaru in addition to attending school at Aims Community College, scored a $1,700 scholarship that will pay for the rest of his education, according to Dave Slone, the dealership's general manager.The money comes from the Clear the Air Foundation, founded by the Colorado Automobile Dealers Association. It offers scholarships to prospective automotive technicians who have had a positive impact on their communities.The foundation works to lessen pollution emitted by old or poorly maintained vehicles on the state's roads.
---
Giving back to the customers and the community - jay c
Our Subaru dealer is amazing. I have wanted a Subaru for ever. I had to convince my wife they are some of the best cars available. My wife hates Subarus and will always see one on the road and say there goes your ugly Subaru. I talked my wife into giving Subaru a chance. I showed her all the amazing reviews of the Subarus. She went in to our dealer while I was at work. 3 hours later I received a phone call saying the dealer converted my wife to the Subaru family. I was very excited I Love the dealer Travis who took the time to convert my wife and made it an amazing experience. They have a tech guy named Steve. Steve is amazing he walks all new owners of Subarus through every detail about the car. Steve will make sure you know everything you need to plus make multiple appointments so you are fully comfortable with your Subaru and every feature it has to offer. The dealer we go to is by far the best dealer I have ever been to. This Subaru dealer gives back to the pet shelters donating food and pet supplies. You can not beat a friendly caring dealership. This dealership will get tired of seeing us popping in on occasion since we live 5 minutes away plus it feels like a second home since they are so friendly.
---
Subaru & LLS Deliver Blankets to Cancer Patients - Beth M
Greeley Subaru, in partnership with the Leukemia and Lymphoma Society, participated in a "Share the Love" campaign to help blood cancer patients at Northern Colorado Medical Center. Team members from Subaru, LLS and NCMC donated 80 warm, fuzzy blankets with care cards and messages of hope from the community. They also delivered 10 care kits to younger patients so the children could draw, do crafts and break away from hospital life. The program is a great way for LLS and Subaru to connect with local hospitals and help blood cancer patients. "It was a rewarding experience to be able to brighten the patients' day and wrap them in love by providing the Subaru blankets! The cancer journey is tough, so to lift their spirits is a wonderful feeling," LLS Sr. Campaign Director Beth Muehlethaler said.
---
Subaru and NWF Love the Earth! - Justin U
Thank you to our business partner Greeley Subaru for giving us a garden! Mr. U and the kindergarten students are building it today. Special thanks to Miss ANDERSEN for taking on this project and the care of the garden over the summer.
---
Greeley Subaru Employee Santa Party - Jodi H
Greeley Subaru employees went "above and beyond" for the children living at the Greeley Transitional House (an emergency shelter for homeless families) on Saturday, December 10. That day, they invited the GTH families out to the new dealership to enjoy a party with Santa. The employees had purchased gifts from the children's wish lists, which were handed out by Santa. Hot chocolate and cookies were the icing on the cake! Thank you so much to all of the Greeley Subaru employees who took the time out of their own busy holiday schedule to make sure that these children had a fun and "normal" holiday experience. It made being in the shelter this time of year so much more enjoyable! God bless all of you for remembering our children. Jodi Hartmann, Executive Director Greeley Transitional House
---
Share the Love 2016 - David S
Greeley Subaru is proud to announce that our 2016 Share the Love partner is once again the Greeley Transitional House. From now till Jan 3rd when you purchase a new Subaru from us you can choose the Greeley Transitional House to receive $250! Check out this awesome video we put together with the Greeley Transitional House and the awesome kids who live there! The Greeley Transitional House is the only homeless shelter in Greeley offering emergency and transitional shelter, case management, and follow-up programs for homeless families. They are located in a 12-room condo-style facility near downtown Greeley. The shelter was established in 1985 in response to community concerns for the need to find shelter for temporarily displaced families. These families find themselves homeless after unexpected loss of employment, farm or business foreclosures, overwhelming medical bills, domestic violence, and increasingly, lack of affordable housing combined with low wages. Whatever the reasons behind a family's homelessness, the Greeley Transitional House provides a positive, hopeful, and supportive environment in which families in crisis can live temporarily while re-establishing their independence. Starting in 2015 we partnered with Greeley Transitional House through the Subaru Share the Love event and we have so far donated over $11,000. This has allowed GTH provide 375 nights of shelter for families living in their emergency shelter!
---
Our Back to School Bash - Cheryl D
I want to say thank you to Greeley Subaru for Sharing the Love with us this year. The 2014 Back to School Bash at Boulder Ridge sponsored by Greeley Subaru was a resounding success! The wonderful residents of Boulder Ridge were given an opportunity to come together and enjoy a celebration of our community, and a celebration of the continued support we receive from Greeley Subaru. Residents of all ages enjoyed food, music, bounce houses and lots of fun. OUr residents were able to win door prizes like back packs and school supplies, tablets and a big screen tv. Resources were also made available to our community from over 20 local organizations including information on energy efficiency, water conservation, free educational programs and reduced cost services available right here in our hometown. We are so grateful for all of the support Greeley Subaru has offered to Boulder Ridge over the past year and we are thrilled to be able to continue to partner with them in the future. Cheryl Diaz
---