2018 Subaru WRX STi Review by Stu Wright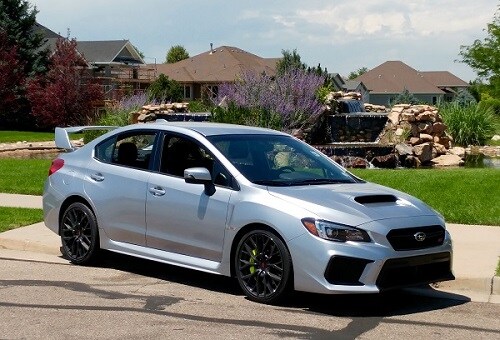 Recently I went to Greeley Subaru to pick up a 2018 Subaru WRX STi for testing; an Ice Silver metallic four-door with black and red ultra suede leather-trimmed interior.  Since 1992, Subaru's WRX series has been offered in several versions, all with rally inspired technology, all-wheel drive, performance suspensions, and turbocharged four-cylinder horizontally-opposed engines.  The name, or letters, associated with the car stand for "World Rally eXperimental", or in some places, "World Rally Cross".  And STi refers to the auto developer, Subaru Tecnica International.  The car is an offshoot of Subaru's Impreza, a five-passenger sedan, and it is its fourth generation iteration.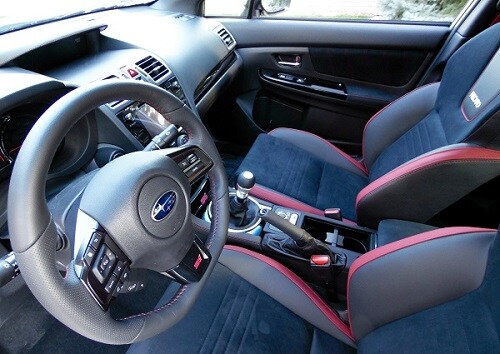 The WRX STi that I tested was equipped with the three-spoke leather-wrapped flat-bottomed STi steering wheel, navigation system with 7" display, backup camera, 19" dark-finished Y-spoke alloy wheels, Subaru Starlink infotainment system, and 6-speaker stereo.  Those items plus the base price of $36,095.00, brought the total M.S.R.P. to $41,985.00, including $860.00 for freight charges.  Also included with the WRX STi sedan were automatic climate control, satellite radio, fog lights, power windows, USB and iPod connections, cruise control, tilt/telescope, remote keyless entry and performance-design Recaro front bucket seats.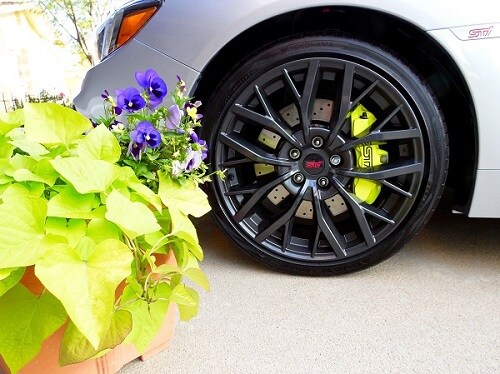 Power for the WRX STi is supplied by a horizontally-opposed, 2.5 liter, four cylinder aluminum engine with 305 horsepower (@ 6,000 rpm) and 290 lb. ft. of torque (@ 4,000 rpm).  A twin scroll turbocharger with intercooler is underneath the engine (helps keep the hood and center-of-gravity low), and a six-speed manual transmission with short throw shifter and incline start assist is on hand.  The low hood features a scoop for bringing fresh air to the "boxer" engine and at the rear of the car are four performance-tuned chrome exhaust outlets.  EPA fuel economy ratings for the WRX are 17 mpg-city, 22 mpg-highway, and 19 mpg-combined.  The tank holds 15.9 gallons of premium gasoline.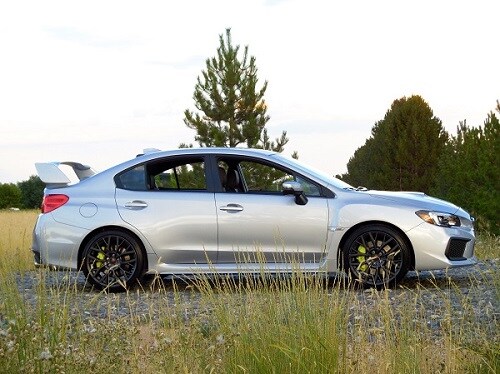 The WRX STi is fast, with zero to 60 acceleration numbers reportedly at 5 seconds and a top speed of 144 mph.  Subaru engineers will tell you, if on hand, to rev the WRX STi to 5,300 rpm and dump the clutch to max the acceleration, but I was unwilling to do so (they were not on hand).  That would be fun.  Driving the car for several days was fun, however, with its capability of drawing .95 G's when cornering.  The ride is certainly firm, but not really uncomfortable, and quite a bit of rumbling emanates from the exhaust outlets (4).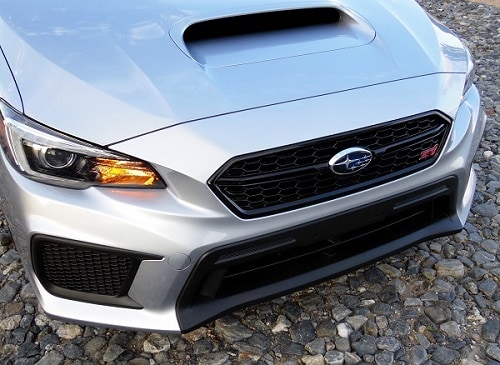 Active Torque Vectoring is a feature of the WRX STi, a system that applies braking (when cornering) to the inner front wheel and thus a reduction in understeer.  ATV, coupled with Subaru's Symmetrical all-wheel drive and front/rear limited slip differentials, provides superior traction and pure vehicle control.  The 19" dark-aluminum Y-spoke alloy wheels were fitted with 245/35R19 Yokohama Advan Sport unidirectional summer radial tires.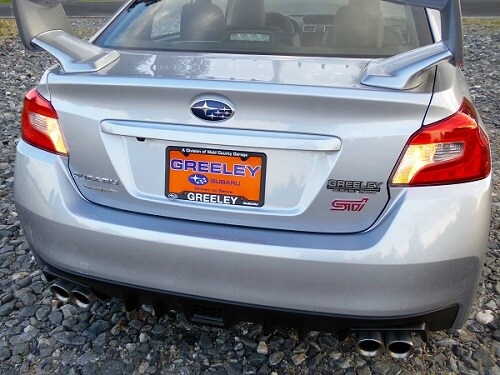 The Subaru WRX STi advertises its rally heritage with aggressive styling, a functional hood scoop, elevated trunk spoiler, front and rear under spoilers, and fog lights.  Behind the front wheel is a scallop and red "STI" identification, nicely done.  Ruth and I found that a lot of people take notice when the WRX STi comes around, so apparently Subaru has a deep and ready reservoir of interested parties showing up at dealerships for a test drive.  They can take my word for it - it's a blast to drive.