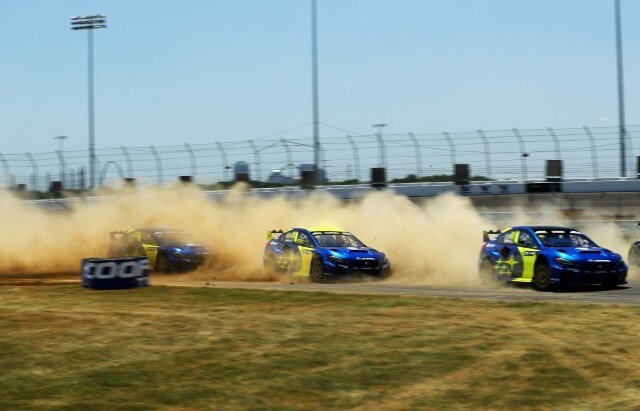 Subaru Motorsports USA took the first two American Rallycross championship wins of the 2019 season so far.
On June 10, Scott Speed took his WRX STi to the top of the podium at Mid-Ohio. Right behind Speed was Chris Atkinson, making it a 1-2 finish in the end for the Subaru Motorsports USA ARX team. Along with Patrik Sandell, the Subaru Motorsports USA team, along with Vermont SportsCar, began the 2019 ARX season roaring into the front of the pack with the blue and yellow livery made famous decades ago by the Impreza RS rally cars of two decades ago.
This was followed up by a great showing by Subaru Motorsports USA at Gateway Motorsports Park outside of St. Louis on July 13-14. The Saturday race saw Atkinson taking his WRX STi to the win, followed up by Sandell winning the Sunday final with Speed right behind him. The momentum by this trio put Speed in the driver's championship lead.
Subaru Motorsports USA and Vermont SportsCar fields the largest team in ARX with our three drivers with their own WRX STi race cars. The support by our fans create the momentum towards winning a championship this year on this circuit.
The next ARX race is in Trois-Rivieres in Quebec, Canada on August 3-4.
Don't forget to follow Subaru Motorsports on Instagram @subarumotorsportsusa, on Twitter @subarums_usa, and on Facebook. Also, Greeley Subaru has a stock of WRXs – including STIs– ready for your own fantasy rallycrossing with your family, or just to drive around town to school or work.