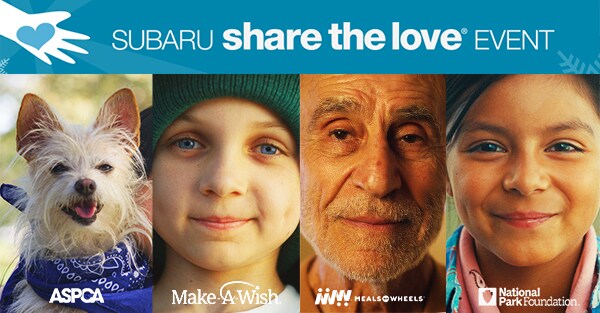 The numbers were just released for the 2018 Subaru Share the Love Event, and it's clear that more love than ever is going around — to the tune of $27.5 million in total charitable donations! Since the launch of this now-annual event 11 years ago, Subaru has donated a whopping $145.7 million to over 1,170 national and local charity partners.
From mid-November through the end of each year, for every Subaru sold, $250 is donated to the national charity of choice. Local dealerships also have the option to partner with hometown charities for their own "per vehicle sold" contribution, which generated more than $3.5 million nationwide. Three years ago, Subaru chose not to put a cap on total contributions made to the national charity partners, which accounts for these impressive numbers.
National charity partners include the American Society for the Prevention of Cruelty to Animals® (ASPCA®), Make-A-Wish®, Meals on Wheels America and the National Park Foundation. Greeley Subaru's official local partners for the Share the Love Event are the Weld County Humane Society and the United Way's Jr. League of Boulder Ridge.
As a result of Subaru customers' selection, national charity partners received $10.1 million, while hometown charities received $17.4 million.
While the national Share the Love Event is an event celebrated near the end of every calendar year, Subaru is always sharing the love, both on a national level and right down to a local one with its Share the Love Promise.
Greeley Subaru may have two "official" hometown charities for the big Share the Love Event, but we're doing things for our community year-round. In fact, we won the 2019 Subaru Love Promise Customer Commitment Award! To learn more about that and our other local charitable activities, head over to our Subaru Love Promise page. If you've got your own "love story" to tell about us, please do! There's an option to submit your own story.
We look forward to spending more time and doing more things for the Greeley community in the future. There's a lot of love to share, and we're proud to be your Greeley-area Subaru dealers!